UC Davis International Programs Welcomes Students from Japan
UC Davis International Programs welcomed 47 students this fall from Yasuda Women's University in Hiroshima, Japan, to participate in two custom programs—a five-week in-person version of the Global Awareness and Intercultural Communication Seminar and a four-week Communication and Culture Program.
Since 2013, Yasuda Women's University has been sending groups to Davis to attend English and American culture programs through UC Davis Continuing and Professional Education's International Programs. The students are part of Yasuda Women's University Study Abroad for Yasuda Students (STAYS) program, which gives second-year students the opportunity to improve their English language skills and understanding of American society. Due to the success of the program, UC Davis has been able to accommodate a larger number of students each year.
Welcoming Yasuda Students Back to UC Davis
"Students studying at UC Davis get an approach to learning that is completely different from that of Japan. They're able to shift from learning English as an academic subject to using English in a practical way," says Hiroyuki Moriwaki, STAYS program chaperone. "Thanks to this program, each time students return to Japan, they're able to express their opinions on sophisticated social issues in English with confidence."
 "UC Davis is a very prestigious university that is recognized worldwide," says Moriwaki, who also lists location and safety as reasons for Yasuda's ongoing partnership with UC Davis. "Coupled with easy access to major cities such as San Francisco and Sacramento, it is located on a huge campus blessed with nature and a good learning environment with libraries and research facilities. The university itself blends into the local community, which helps ensure the safety of our students." He added that campus preventive measures and high vaccination rate are a reassuring factor during the pandemic.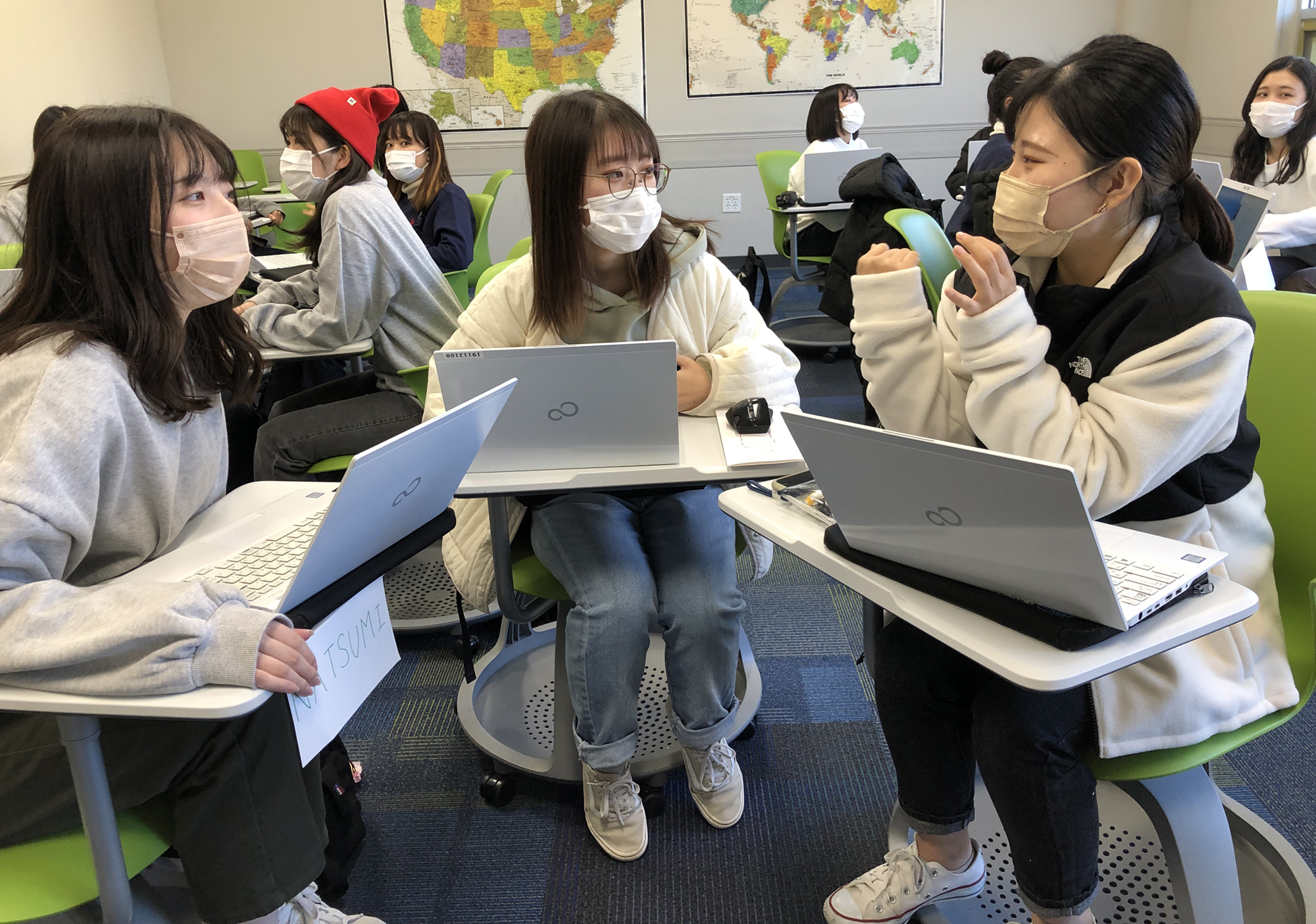 STAYS participants typically study at UC Davis for five months, participating in a 10-week Academic Engagement Program followed by a four-week Communication and Culture Program, but this time Yasuda Women's University required a shorter time period with specific instructional needs. "We were able to modify some of our existing in-person and remote programs, so students could receive credit toward their graduation requirements," says Nari Fujita, director of academic initiatives at UC Davis International Programs.
"Director Fujita consulted with faculty members in the Department of English Language and Literature at Yasuda Women's University about various aspects of the program. We are now benefitting from the customized programs UC Davis carefully prepared for us and are very grateful for their constant consideration of what is beneficial for our students," says Moriwaki.
Improving Language, Expanding Awareness
Becoming comfortable and confident English speakers is an essential aspect of the customized program. To help students improve their English language proficiency, courses introduce new vocabulary and place an emphasis on reading comprehension, listening, notetaking and participating in class discussions. "In our interconnected world, the ability to communicate in English is a must if students want to get ahead or be part of the global conversation," says Elizabeth Morrison, academic coordinator for the Yasuda group and instructor of the Global Awareness Through SDGs course. Her course introduces students to the 17 sustainable development goals created by the United Nations and encourages students to become activists in their communities and make contributions to creating a better world. "I hope our program will expand their knowledge of the world, help them gain an understanding of American culture, improve their English language proficiency and encourage them to be a voice for change," explains Morrison.
With the small class sizes at UC Davis and plenty of opportunities to engage in discussions with classmates and instructors, students have already noticed an improvement in their English communication skills and an increase in their confidence to speak up. "What I enjoy most about UC Davis is being able to express my opinion in a small class. In Japan, it is difficult to express my opinion because of the large number of students, but now I think it is very fun to participate in class," says Moena Nozaki.
"When I was in Japan, I was embarrassed to speak in English, because my pronunciation is not good and it was difficult to communicate with English teachers in English," says Ayano Okimura. "However, during my study abroad, I have a lot of opportunities to speak in English, so I make a list every night of words and sentences that I'd like to use tomorrow and I learn new expressions every day."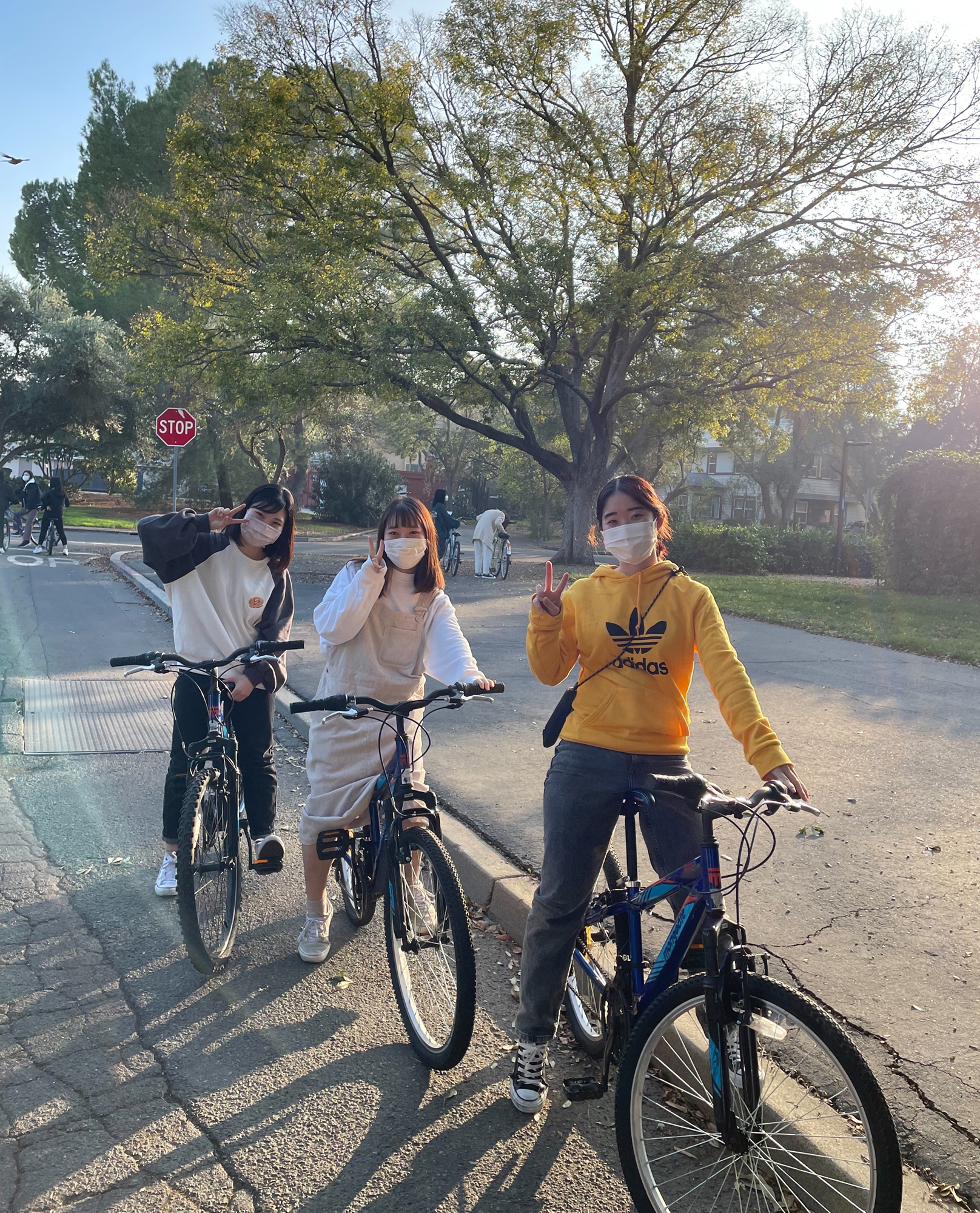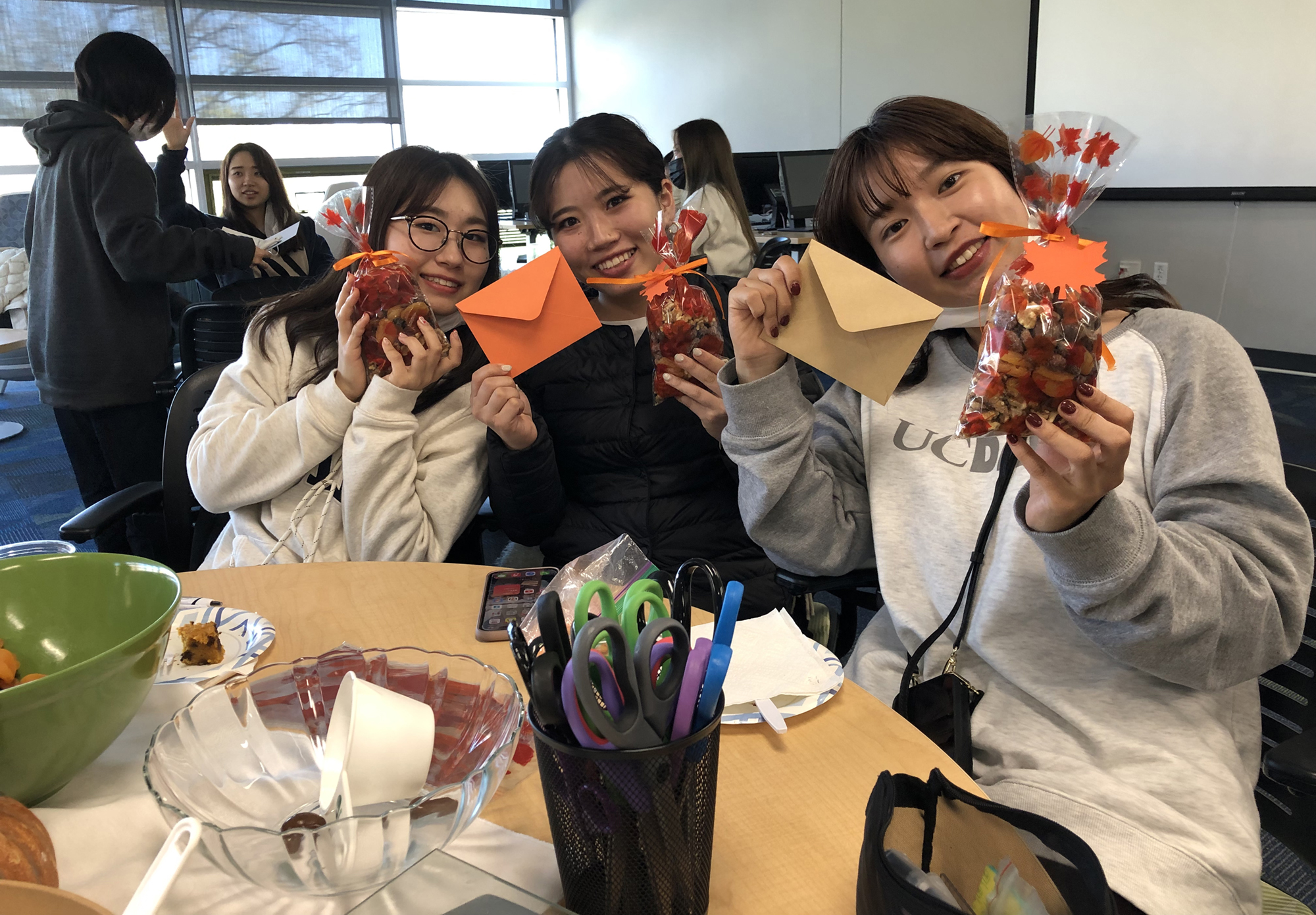 Time spent outside the classroom participating in everyday conversations in English or joining extracurricular activities designed to help students get to know the campus community and learn about American traditions are an important part of the study abroad experience. "After school I go to Starbucks to order drinks, a cafe to eat pancakes and a fitness gym. All of this forces me to speak and listen using English," says Riko Matsushita.
"Being able to learn a language while actually using it is a great experience," adds Nozaki, who enjoys helping and conversing with her host family during her free time.
Create a Custom Program for Your Student Group
We provide international partners with innovative and flexible opportunities for students to access the knowledge and resources of UC Davis. For more information on how to set up a similar program for your school, contact Nari Fujita at cpeinternational@ucdavis.edu.
"Beyond the language skills, students learn that traveling to another country opens their minds to new ways of thinking and provides them with a sense of being a citizen of the world, rather than simply a citizen of their country," adds Morrison.
Moriwaki agrees that aside from improved communication skills, some of the most valuable things students get from their study abroad experience at UC Davis include participating in various cultural and social activities, living with host families and making friends from different cultural backgrounds.
Secondary Categories
Tags