Developing Programs that Meet Your Needs
Every university, institution and organization we partner with is unique. Each has different needs, different goals and different students. Our approach to developing custom international education programs reflects these differences, ensuring that the programs we create are as distinctive as the clients and students we serve.
For more than 40 years, the UC Davis Division of Continuing and Professional Education's International programs have developed customized programs for some of the world's most notable international universities, government-sponsored agencies, higher education organizations and foreign ministries of education.
Program Benefits
Highly customized—Program format, timing and curriculum are all built based upon the specific needs of your students and organization
Collaborative—Our staff work directly with you to ensure your program is the perfect blend of academic rigor, cultural exposure and social experience
Exceptional—Taught by our outstanding English-language instructors, University of California faculty and leaders in private industry
Impactful—Depending on your needs and the length of your program, students can earn certificates of attendance, academic credit at their home university or diplomas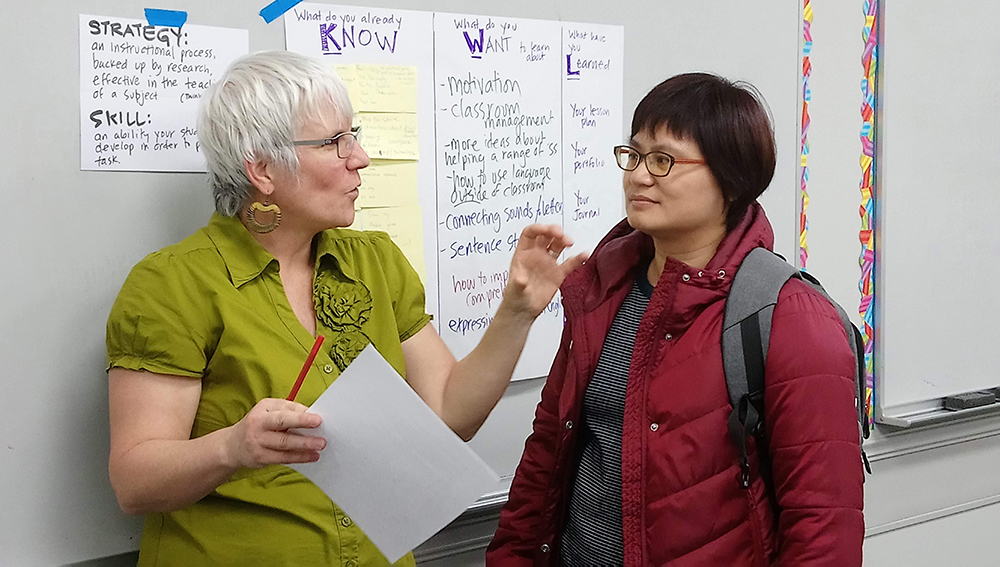 Examples of our Programs
Professional and Custom Programs can be delivered on the UC Davis campus (in our outstanding new International Center facility), abroad, online or in a combination of formats. We have produced a wide variety of custom-designed academic and cultural programs. From professional skills to academic achievement to English-language and U.S. culture, our programs and curricula reflect the needs of your students. A few examples of the kinds of programs we've developed for clients include:
Pre-Academic Preparation Programs
Designed specifically for international scholars attending U.S. universities, these programs enable students from around the world to successfully pursue their academic interests at UC Davis and at universities throughout the United States.
Examples of these programs include:
     • Hubert H. Humphrey Fellowship Program Pre-Academic Orientations
     • Fulbright Preparation Programs
     • Fulbright English for Graduate Studies programs
Discipline-Specific Academic/Professional
These career-enhancing programs provide students with access to the extraordinary resources of the University of California, Davis, one of the world's top-research universities.
Examples of discipline-specific programs we've created include:
     • Agricultural programs taught by faculty from UC Davis, the world's leading agricultural university and an innovator in winemaking, brewing and farm/food production
     • Programs for Global Education (TEFL, Teaching Pedagogy for Science Educators and other custom programs that combine innovative instruction, local school visits and supervised teaching opportunities for international students)
     • Research and Academic Culture programs designed to provide students with exposure to various research fields at UC Davis and improve their ability to succeed as a research scientist in the future
English-Language Programs

Intensive English-language programs give international students the skills they need to succeed in their academic and professional endeavors.
Examples of the English-language programs we've created include:
     • English for Science and Technology
     • iBT, GRE and TOEIC Test Preparation
     • Accent Improvement
     • Interdisciplinary Research Projects
     • Industry-specific English programs for medical, legal and business professionals

Youth Programs
These unique programs are designed to connect pre-college international students (ages 12-17) with a memorable cultural and academic experience at UC Davis.
Examples of the youth programs we've created include:
     • Science and STEM Programs
     • Team Building and Leadership Program
     • U.S. College Preparation and Study Skills Program
     • English and Culture Program
Custom Online Programs and Distance Education
UC Davis' Division of Continuing and Professional Education is a pioneer in online learning and has developed a strong distance education portfolio. In collaboration, we can design hybrid programs that blend online curriculum with traditional on-site instruction.
Examples of the kinds of programs we've created include:
     • Information Technology
     • Teacher Training and Education
     • Agriculture and Viticulture
     • Human Resources
     • Business and Leadership
     • English Composition
Partners and Clients
We have created customized international education programs for some of the world's most prestigious and influential international universities and educational organizations, including:
Leading International Universities
     • Waseda University
     • Zhejiang University
     • Kyushu University
     • Xicheng Schools, Beijing
Prestigious Government Organizations
     • American Councils for International Education (ACTR-ACCELS)
     • COLFUTURO
     • Institute for International Education (IIE)
     • Japanese Ministry of Education, Culture, Sports, Science and Technology (MeXT)
     • American International Education Foundation
     • Ministry of Education, Argentina
     • Ministry of Education, Chile
     • Ministry of Education, Colombia
     • Ministry of Education, Egypt
     • Ministry of Education, Korea
     • Ministry of Education, Taiwan
     • Department of State, U.S.A.
Respected Educational Partners
     • Fulbright Commission
     • SABIC

Our Process
Like our programs themselves, our approach to working with you is customized, collaborative and personal. Our process is divided into five key steps:
Discovery
Review our website to get a sense of the wide range of courses and programs we offer. When you're ready, contact us to discuss your ideas and needs. We will ask you about your group's profile and specific requirements, and provide you with additional information about our programs.
Development
You will work with one of our program coordinators to explore program options in more detail, including curriculum, site visits and guest speakers, housing and other student services (bus passes, ID cards, computer access accounts, welcome and closing ceremony receptions, airport pick-up, etc.). Schedules, dates and fees will be negotiated, and we'll provide you with a written proposal summarizing your program.
Confirmation
When all of the details of the program are agreed upon, we will prepare a final proposal and program agreement for signature. If you are working with an independent agency for administrative services, we will work with them to handle logistical details. Payment for the customized program is typically via wire transfer or credit card.
Implementation
Develop all the services and instructional details for your program, including hiring instructors, identifying speakers and establishing course visits.
Evaluation
Students will evaluate all aspects of the program. At the close of the program, your program coordinator will provide you with a detailed report, including student evaluations, feedback and suggestions for improvement.
Questions? We Can Help.
Contact us today to find out how we can build innovative international education programs that meet your group's specific needs.
For more information, please email us at intlcustomprograms@ucdavis.edu and we will make sure you're taken care of.