Remote
Comprehensive Preparation for Undergraduate Studies 
University Seminar is an online academic preparation course designed to provide international undergraduates with the skills to successfully complete university coursework in English. In addition to critical language skills, this comprehensive course includes a practical academic skills component that introduces students to key academic practices to excel in undergraduate studies.
Create a Custom Program
All of our Short-Term Content-Based Programs can be customized to fit your needs. For more information on how to set up a custom, content-based program, contact Xin Chen at xsch@ucdavis.edu.
Program Benefits
University Seminar is a foundational course that builds fundamental competencies that students can use throughout their studies and beyond. Students will develop their English reading, writing, listening and speaking skills through individual and small group assignments. Students will also have the opportunity to observe online classes of their choice remotely and submit reports of their experience.
Develop English speaking and literacy skills
Strengthen communication and fluency skills
Improve analytical skills by reading texts, listening to lectures and participating in discussion groups
Develop initiative and leadership skills in the classroom 
Learn essential study habits for academic success
Improve your understanding of undergraduate expectations
Program Details
This six-week, remote-learning program is offered twice a year (summer and winter) and includes 10 instructional hours per week for a total of 60 hours of learning. The program is open to students with iBT TOEFL 70 or ITP 525, IELTS 6.0 or CET 4 and CDET 6. A minimum of 15 students is required for implementation of the course. Students will be recruited from various partner institutions.
Highly qualified and experienced teachers
No F-1 Visa required
Synchronous instruction via Zoom
Asynchronous instruction via the Canvas Learning Management System
Live weekly lectures and two individual one-on-one meetings with instructors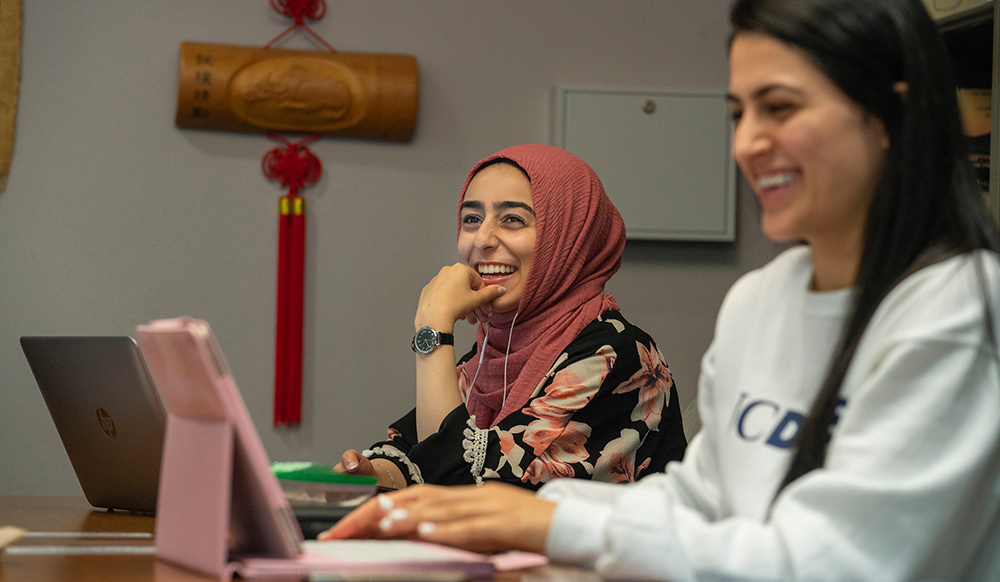 Engaging Curriculum
Designed to help students succeed in an academic university environment, the program curriculum includes a combination of Class will meet twice per week on Zoom for 4 hours of synchronous class time
Weekly asynchronous work (observing university courses) for 6 hours per week
Additional asynchronous work (using various classroom apps) for 3 hours per week
Weekly discussion forums on CANVAS for 1 hour per week
Note: An NP will be given to students who do not demonstrate effort in the class. This means students have done less than 80% of the coursework, have not discussed missed homework with the teacher, and/or have not participated in class discussions (either pair/group or whole class).
Participants must have a high-school diploma or be at least 18 years old to enroll in this program.