Dear Prospective UC Davis IEP students:
Greetings from San Francisco State University!!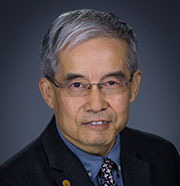 Welcome to San Francisco State University (SF State)! We are thrilled that you are considering joining the SF State family.
Founded in 1899, SF State is one of the 23 campuses under the California State University system and is accredited by the Accrediting Commission for Senior Colleges and Universities of the Western Association of Schools and Colleges. The university offers Bachelor's and Master's degrees in more than 150 academic programs.
Located in the world famous city of San Francisco, birthplace of the United Nations and home of one of the most multicultural populations in the world, SF State's main campus is in a quiet and safe neighborhood with easy public transportation to all parts of the city and beyond.
We have devoted faculty and staff members who have been chosen because of their exceptional instructional ability and experience in their field. We also foster a "student centered" environment; our faculty and staff work together to assist students achieve their educational and career goals.
We are delighted to partner with UC Davis Division of Continuing and Professional Education to offer conditional admission to its Intensive English Program students. We look forward to personally welcoming you to SF State. We are confident that you will find this a truly exciting time to pursue your undergraduate studies here.
San Francisco State University
Office of International Programs
oip@sfsu.edu
415.338.1293