Dear Prospective UC Davis IEP students:
Greetings from Fresno State!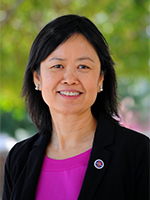 I am the Assistant Vice President for International Affairs at Fresno State and we are so excited that you have considered this wonderful pathway program to our university in partnership with UC Davis, Division of Continuing and Education (CPE).
There are many reasons why we think you'll love Fresno State, but here's some of the top things that makes Fresno State so unique:
1. Commitment to our community
2. Richness in culture, creativity, and diversity
3. Entertainment and leisure
4. Emphasis on Academics
5. Bulldog Pride!
Come join our international student community from 70 countries and 24,000 students in the U.S.! We are a campus pursuing discovery, diversity, and distinction.
Our International Student Services and Programs office's main mission is to provide high quality services to international students and serve as an international education resource to the university community at California State University, Fresno.
We look forward to welcoming you to Fresno State University!!
Sarah K. Lam, Ed.D.
Assistant Vice President of International Affairs
Division of Continuing and Global Education
California State University, Fresno